I recently went to an event showcasing north east venues and discovered that you can have your ceremony on the award winning beach outside of the Roker Hotel in Sunderland (incidentally also the home of Poetic License Gin but that's another story!) with a celebrant conducting the ceremony.  Then I came across a blog about a licensed beach hut in Bournmouth which meant couples could legally marry on the beach (for a structure to be sanctioned for marriage it must be permanent and have a roof!) and pop a marquee beside the hut for the reception.
It reminded me of a DTTB episode where the hapless groom led his wedding party down very winding, very steep steps to the beach for his ceremony, and it looked stunning.
So it got me thinking….where else can you get married on the beach in the UK. Most of what I could find are at opposite ends of the UK – Scotland and Cornwall!  There are a few in between.  Here are our favourites.
♥          ♥          ♥          ♥          ♥          ♥
♥ Newton Hall
From what I can tell you can pretty do what you like at Newton Hall!  Their flexibility is endless and they want you to have the best wedding ever in whichever space you choose – including an outdoor terrace with retractable roof and their very own Wedding Hill.
Photo Credit: Tux & Tales
♥ The Lodge on Loch Goil
Not technically a beach….but when you see the stunning setting of the Loch you won't care that there aren't waves crashing on the beach.  Oh, and did we mention there's a tree house!
Photo Credit: the Lodge at Loch Goil
♥ Crear, Scotland
As their website states, this venue is one of Condé Nast Brides Hot 100 exclusive use venues in the UK and you can see why – located in a magical landscape on the west coast of Scotland (Argyle), Crear is a very special place. Exclusive use over three days and three nights in understated, affordable luxury, complete privacy, and a relaxed and welcoming atmosphere. Shame I'm already married. Renewal of vows maybe?!
Photo Credit: Wonderful and Strange
♥ Lusty Glaze
Best. Ceremony Location. Name. EVER! Fiery sunsets, secret caves and secluded horseshoe coves this is the only place you can tie the knot on the beach in Cornwall in Summer or Winter. Atmospheric, unusual, dramatic. All the things you want a beach wedding to be. *sighs, stares off dreamily into the middle distance and prays to be invited to a wedding here*…
Photo Credit: Ali Paul Photography
♥ Tunnels Beaches
OK so you're not technically on the beach, but you're as close as you can be!  Stunning backdrop, nice flat surface to walk on (so you don't have to compromise on your shoe choice!) and no wobbly chairs for guests. Good choice!
Photo Credit: Matt Fryer
♥ Sandbanks Hotel
Again you won't feel the sand between your toes as you walk down the aisle but the Beach Terrace offers an al fresco blessing option (following your legal ceremony – you would have to ask them if you can just have the terrace with a celebrant) and is a stones throw from that sand so you can head straight on to the beach for photos.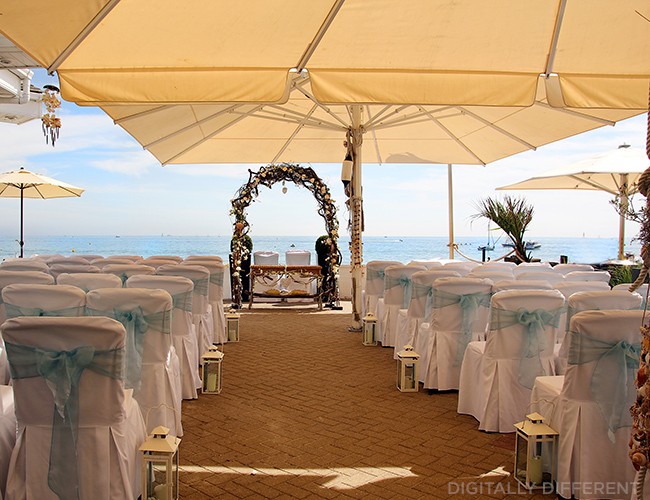 Photo Credit: The Sandbanks Hotel
We struggled to find LOADS of places to have your ceremony actually on a beach in the UK but if you speak to beach front venues and to a celebrant I'm sure they'd be able to advise places that you could have your ceremony outside with the sand between your toes and the waves crashing on the beach. Just watch out for stubborn sunbathers (probably not an issue if you're planning a North East/ Scottish beach ceremony!).
Some things to remember if you're planning a beach wedding:
Check the tide tables – you don't want your guests grabbing a chair and running as the tide rushes in.
In the summer there are bugglies that will bite you. And your guests. Bug spray is a must.
Have a wet weather plan!  Umbrellas are great but have you got enough for everyone?
Have a hot weather plan!  It might not seem like long but a half hour ceremony in bright, hot sunshine can have repercussions.  Sun lotion, a parasol, and make sure the bride has had a good amount of water.
Leave it as you found it. Bio-degradable confetti only, things that wont harm sea-life if they end up in the water, take all your rubbish back with you and NO PLASTIC left anywhere near the ocean.
Check permissions! Do you know who the beach belongs to? Do you need permission, or a special licence.
Done all that?  Then you're good to go.  Get in touch for Fairy Wedmother to help with your beach wedding planning ♥
Quick disclaimer – the info covered here came from websites and a few cheeky calls to venues. We recommend you contact the venues yourself to get the low down on what's available and how you can do it.
Featured Image: Ali Paul Photography, at Lusty Glaze