I keep seeing them and reading about them. What I'm not sure about, is whether or not Brides like them!  But Wedding Jumpsuits appear to be the next big thing for Millennials getting married.  Traditional dresses are out and Jumpsuits are in.
We're not sure so we did some digging to find out if, outside of London, Bridal Boutiques are stocking them. Here's what we found.
We checked out the ENTIRE Pronovias Wedding Dress collection (several boutiques in the North East stock this label), and although we found dresses with my favourite accessory – pockets!! – we couldn't spot a single Jumpsuit.
We also mooched through local designer Kate Fearnley, and yes – there is a beautiful collection of dresses that can be made just for you …. but no Jumpsuits! HOWEVER, they do make bespoke dresses so my guess would be if you want a jumpsuit, she'll make you a jumpsuit!
Another local boutique stocks Romantica Oplulance and Silhouette and although it is a stunning collection that includes pockets and curvy frocks, again no jumpsuits.
Modeca, in their 2018 collection, also don't feature jumpsuits.  There are cocktail, side splits and dipped hems. There are pockets and a stunning array of lace. Worth a look if you're not looking for a jumpsuit!
* granted this is not every dress maker or every stockist but I did look through A LOT and still couldn't spot one!
So, it would seem that you can't just wonder into a bridal boutique (outside of a major city) and find a jumpsuit (and if you are a bridal boutique that sells wedding jumpsuits please do let us know!). So instead we scoured the internet to find you some images of some (slightly outrageous, but also gorgeous) jumpsuits to suit all figures and personalities!  There are loads, here are some of our favourites.
♥          ♥          ♥          ♥          ♥          ♥
Actually L♥VE this.  A good compromise between a dress and a jumpsuit, give you swishability (and who doesn't love to swish!) while showing off your legs in the best way.  Unsure about sitting down but you can combat that by only serving canapés….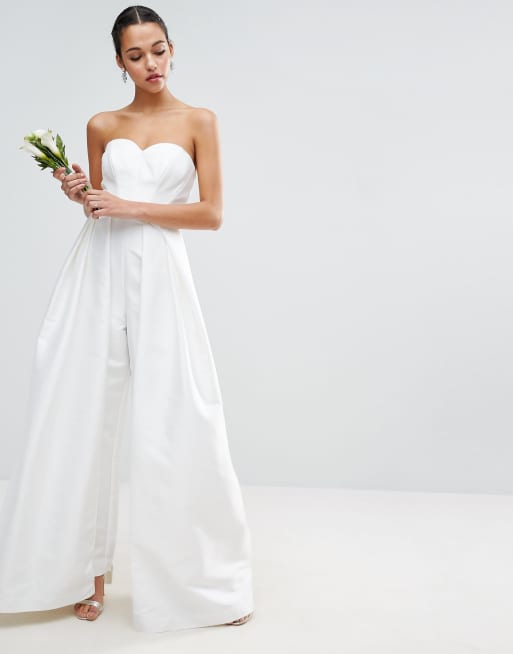 Simple and flared, you could almost not realise it's a jumpsuit.  Great for stopping thigh rubbing while giving the illusion you're wearing a dress.  Possibly needs a bit of sparkle (hey, Fairy Wedmothers LIVE for sparkle, don't judge!)
Like a dress, this could hide any lumpy bits you're not keen on showing off. Simple and elegant. We just can't decide if a peep toe was a good idea; those little piggies look odd poking out the bottom!  But it's got pockets. And I love pockets!
A jumpsuit. With a cape. What's not to love about that. All it needs it SB in diamante on the back.  Super Bride, flying through the air all Bridey and stuff.
Despite the fact that this model looks like she's got a very bad wedgie, the lace and pockets on this lovely number make it an all round good choice if you go the jumpsuit route.
And my favourite.  A vintage number with super wide legs so it totally looks like a frock but you've got the confidence of a trouser. Doesn't matter what size you are, this is going to suit all figures…a little bit in love with this one ♥ So our conclusion? Jumpsuits are getting around so even if you can't nab one in your local bridal boutique they feature on line and can be made for you. But unless you're Solange, pushing a daisy laden pedal bike, they might not be for you! ♥