You've been to loads of weddings, right?  Chances are you got a wedding favour? And you – you're planning your awesome wedding right now, aren't you?!  And you'll carry a bouquet as you walk down the aisle followed by (or following, your preference) your bridesmaids, right?
These wedding traditions occur at pretty much every wedding.  BUT….do you know why you're giving favours or carrying flowers?  Do you have to? What about guest books, being given away or having bridesmaids and groomsmen?
We explore!
♥          ♥          ♥          ♥          ♥          ♥
♥ Wedding Favours
Why? Well, a loooooong time ago back when sugar was a symbol of wealth and believed to be good for you (uh-huh!), aristocratic families gave sugar cubes to their guests pretty much just to show off how wealthy they were. As sugar became more affordable this evolved into sugared almonds and five were given to represent health, wealth, happiness, longevity and fertility and signified well wishes on the grooms new life (not the bride, you'll notice!  This has evolved again (thank goodness the 80s are over the the almonds can no longer break your teeth) into the trinkets we offer today.
Alternatives?  We know deciding on your favours can be stressy and costly.  We at Wedmother Towers say this – just give people something to eat or drink (they'll only feel guilty when they eventually chuck away that trinket anyway!) or do as one of our recent brides did – take the money you would have spent on favours and donate it to a charity. Most charities will give you a little card to pop on the place setting letting your guests know they aren't getting anything but someone else will benefit.  After all, your guests eat and drink for free so they don't really need a trinket. And if you're a crafty type then make something – always cheaper than someone else making it!
♥ Attendants (bridesmaids, groomsmen)
Why? There's a lot of lore on this and I'm not sure which is true but some of it's amusing so here we go.  In ancient Rome (the Romans have a lot to answer for when it comes to weddings!) it was law to have 10 attendants that dressed the same as the bride and groom to confuse any vengeful spirits or jealous suitors that may be present.  The Best Man was actually the protector of the bride should anyone come to try and steal her from the groom, which is why he stands up with the groom – who knew! Swords at the ready, Best Men!  Nowadays it's a way to include people in your wedding…but choose wisely. These people will help you get dressed, carry your precious rings and help you out on the day.  Want to find out more? I found this interesting!
Alternatives? Not really.  Back in the day attendants served as witnesses but now you can have separate witnesses.  You don't have to have any attendants at all if you don't want them, or you can have twenty. A recent episode of Say Yes to the Dress (for research purposes of course) had a bride with 22 attendants, so she split them into bridesmaids and 'biblical maids' who would stand in the aisle and light the way as the bride walked down.  Lovely idea but 22 bridesmaids…ARE YOU NUTS!!
♥ Guest Book
Why? Originally all guests at a wedding were considered to be witnesses to that marriage and so all signed a document or book to state they witnessed the marriage occur.  Over time, and as more legal meaning was given to marriage, the need for all witnesses was reduced to a legal requirement for two and the guest book evolved into a memento of the day full of well wishes from guests.
Alternatives? Of course, there are loads!  But there's no getting around the need for two witnesses. Whether you get married in a venue sanctioned for marriage or the register office you will require two people – you don't have to know them but they do have to be there – to sign that they witnessed your vows.  The vows, witnesses and signing of the register are the bits you need to be legally married.  The only way not to have witnesses at your ceremony is to have a celebrant conduct it. BUT you will still have to get legally married in a register office. With two witnesses!!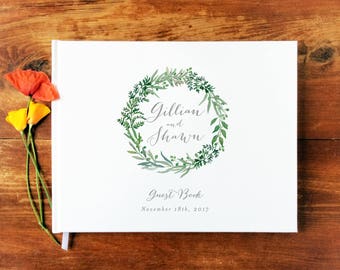 ♥ Carry Flowers
Why? Back in Roman times flowers were believed to depict new beginnings, fertility and fidelity and so brides and their maids covered themselves in flowers, not just bouquets but head bands, attached to their dress and so on.  Jump up a little bit (to around the 1600) and it's believed that the bouquet was an attempt to mask the awful smell of unbathed brides!  At this time bouquets would include strong scented flowers along with herbs such as basil which could also be later used in the wedding feast (there was no wasting money back in those days!)  Want to know the hidden meaning of flowers so you can build your bouquet to suit?  Hitched.co.uk has done the work there, take a look!
Alternatives? Loads!  We've found button bouquets, paper flowers, wild flowers (such as heather), balloons (yep, you read that right!), fans, pinwheels (pretty sure I called these windmills as a child), fabric, fruit and…possibly my favourite….pom pom!
You might wonder if you have to be given away?  Well, long ago, way before Millicent and Emmeline kicked butt for women, daughters were considered the property of their fathers and could only get married with his agreement. He walked her down the aisle to ensure she definitely turned up and couldn't run away (she was, usually, marrying someone she did not love).  Nowadays of course, it's a lovely thing to have a parent (not just your dad) or sibling give you to the man of your dreams, and he (usually) doesn't have to hold on so tight!
You might also ponder as to why we give and receive wedding rings?  I could only find the usual 'circle, no beginning/end' etc but then came across this wonderful explanation by Father Wang Do have a little read, he puts it beautifully ♥