You knew it was coming (you're so excited you might pee a little bit) – you've been talking 'bridesmaid' for ages and it's finally official. She's asked, you've said yes and now you're going dress shopping!
Now I have to say, I do kinda like the bridesmaid bit on Say Yes to the Dress – the front of some of the American bridesmaids always makes me cringe but in a good way!  You would never get a BM over here in England saying 'nuh-uh, no way, I'm not wearing that' or 'I'm gonna need more cleavage if you want me as your BM' or 'that's the ugliest thing I've ever seen I'm not paying for that'.
Nope, we sit by quietly while the person that we thought was one of our best friends, who we thought we knew inside out; who has been your wedding buddy for years and spent hours with you pulling apart every aspect of someone else's wedding…while that person chooses what can only be described as a monstrosity and pops you in it for all to see, to be immortalised on film. And you just smile politely!
In this situation?  Here's our Grin and Bear it guide to shopping with Bridezilla and carrying off the most hideous frock known to man without offending your friend*.
*Status of friendship to be determined at a later date, once the frock is burned and all photos removed from social platforms
♥          ♥          ♥          ♥          ♥          ♥
♥ Ok, so you're on the shopping trip.  You know it's going to be green. You know it's going to be strapless. You know your boobs are not going to be happy – you'll either end up with uniboob or pouring out puppies (and no amount of fabulous underwear is going to sort it out). What do you do? Stick out your chest and hope the Bride see the error of her ways (well, your boobs in her face) or request a wrap and hope she goes for it.
♥ Bride decides that dusky pink is what she's after. You are a redhead with pale skin.  You put on the dress and instantly become the invisible woman.  All anyone can see is your hair! Body – gone. Face – gone. Just a bunch of (beautiful) red hair strutting about. On the bright side, it's the perfect excuse for a spray tan and a totally new face of make up!
♥ Bride is having a crisis. Short dress or long dress? You know you prefer a short one simply because they are less hideous than long ones, and there's a (very slim) chance you could wear it again. But how to sway her that way?  Well if she's hellbent on making you look bad, then say you look awful in knee length dresses and long is the way forward…bound to trigger some reverse psychology and get you that short cocktail number.  Sadly, she's not budging on mint green (hurray for Dylon).
♥ You hear whisperings of headgear.  Please let it be a tiara. A nice, small, tasteful tiara.  Ha! You should have known.  Out comes something from a 50s alien movie, all green and puffy, and you're not even sure how it goes on your head.  If you can just manage for the ceremony and (some of) the photos, then you can go through a doorway or duck under a table and oops..off it came. You're so sorry, you didn't mean it, you're heartbroken (you're laughing inside).
♥ Now thankfully, you're not a bridesmaid in the 1980s – those were the days of 'little bo-peep' dresses, big puffy sleeves and bows on your behind, not to mention the brightest colours known to woman.  As a bridesmaid of the '10s you only have to contend with fishtails, cold shoulder/one shoulder dresses and potentially jumpsuits.  Not so bad I hear you say.   Well now that does depend on your figure, the colour scheme and your height, doesn't it!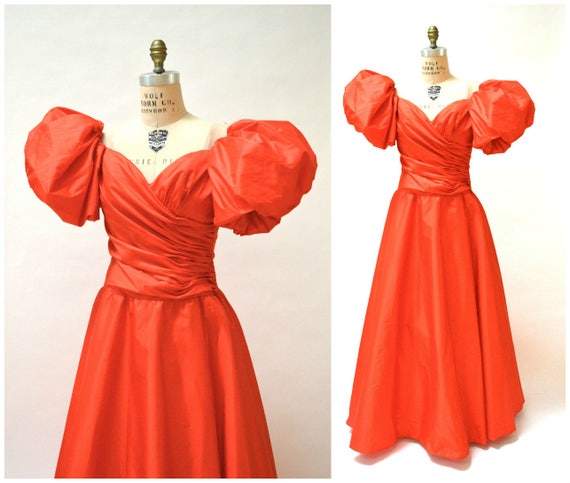 There's nothing a hideous bridesmaid frock likes more than a wrap, a great spray tan, awesome shoes and, in extreme cases, a bit of a rip when you step on it going up the stairs…!
Sadly no single dress looks good on a variety of body shapes, skin colour and height all standing together.  Choosing bridesmaid dresses, appeasing everyone and keeping the bride's wedding day dream alive is a tough task.  But Brides take note!  If your bridesmaids look hideous, your photos look hideous. And people think you're a meanie.  You're supposed to love the people you ask to stand with you, be kind ♥