Choosing your wedding transport requires a little thought!  For the most part your checklist for getting what you need will include:
♥ Will you need two or is the venue close enough for one car to do two journeys
♥ Is it easy to get in and out of with your frock?
♥ Can it park close enough to your venue
♥ Are you able to take your photographer along to take pictures elsewhere, and if so can they ride with you or up front with the driver or will they have to follow you
♥ How many people are you transporting – just the bride and groom, or the whole wedding party
Back in the day everyone walked to the church – bride, bridal party, guests, everyone!  Recently a friend of mine got married in a small coastal town and there are some stunning pictures of her walking through the town to the church with her guests in tow, it's beautiful.
Getting married in a hotel means you can get ready there, so no need for transport which does keep costs down but you might feel you're missing out on an integral part of the wedding day.  Combat this by finding a venue that has a chapel or ceremony room that is a short walk away and arrive the old fashioned way – just pray for sunshine!
But if those two methods are not a part of your day and you're going to need to get to the ceremony in something, here's some great (and some slightly strange) ideas for you!
♥          ♥          ♥          ♥          ♥          ♥
♥ The 'Posh' Car
Whether you choose a Bentley, a Roller or a sports car there's an array of posh wedding cars to choose from. All you have to decide is how old it should be, how big it should be, does the roof come off and can you get in and out of it in your frock?  You'll find a chilled bottle of bubbly in the back – try and save it for when you're in there with your husband!
♥ The Horse and Carriage
For this option you've got your open top, your glass coach (with a roof and doors) and of course, the fairy tale Cinderella carriage. I'm not sure the Cinderella is for everyone but I am sure there are some princesses out there who'd love it!
Ok now we get into slightly odd territory!
♥ These Bike and Carriage combos are perfect for the biker in your life! 
♥ Then there's the work themed choices….tank, digger and, well, taxi?
♥ There's always the lovely VDub camper van, many choices of colours and there's usually quite a lot of room in there
♥ But the weirdest wedding transport we found?  Well, it's tied for first place….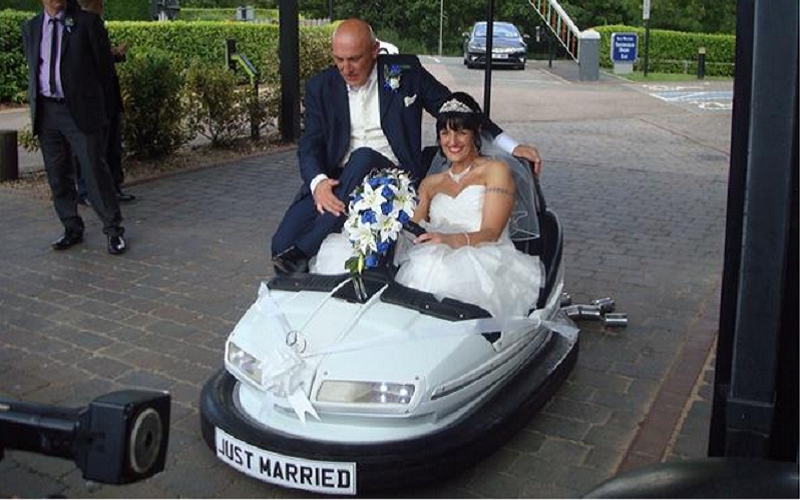 and    
So there you have it.  Weird and wonderful ways to get you to the church on time!  Have fun hunting out your perfect vehicle. Make sure it not only enhances the look and feel of your day but reflects both of your personalities too!
For more inspiration and something different follow these links ♥
♥ For a mad array of cars – http://www.starcarhire.co.uk/
♥ For all things vintage – http://www.horganscars.co.uk/
♥ For all things VDub – http://www.lovedubcars.co.uk
♥ For big buses – http://www.yorkshireheritagebus.co.uk/OurBusGallery.asp